News
Trending
"Turn Water Into Food" Program is Back to KSA
GROHE Saves Water for Future Generations in Partnership with the Saudi Food Bank, Ita'am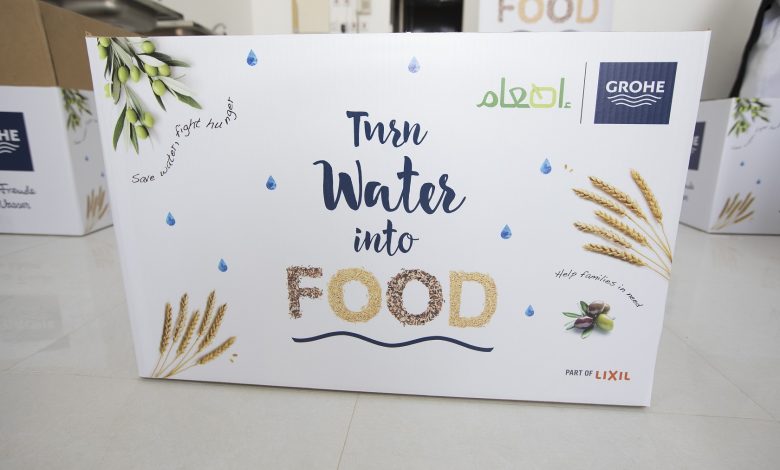 Follow Asdaf News on

Riyadh –
:
GROHE, the leading global brand for full bathroom solutions and kitchen fittings brought back its Turn Water Into Food program to the Kingdom of Saudi Arabia for the second time in partnership with the Food Bank. The award-winning program designed to guarantee the responsible use of water granting the conservation of thousands of liters, was successfully launched in Saudi Arabia in 2015, Egypt in 2016, Turkey 2017 and Jordan in 2018.
In line with Saudi Arabia's Vision 2030, which focuses on spreading awareness about the importance of environmental sustainability and the optimal use of water resources by reducing consumption, GROHE identified a new mosque, Al Owais mosque in Riyadh, to implement the first phase of the program. The existing faucets within the ablution rooms for praying were replaced with 29 self-closing faucets provided by GROHE. This resulted in water conservation that was converted into food parcels distributed by the local Food Bank and GROHE's team to underprivileged families in the Kingdom as part of the second phase of the program.
"Taking on the mission of Shaping the Future of Water in a water-scarce region like the Middle East presents itself as a challenging task for GROHE, but for the last 10 years, we have turned this challenge into an opportunity to expand awareness about water conservation and shift water consumption habits with the sole aim of saving water" emphasized Antoine Khalife – Vice President – KSA & Levant while highlighting the importance of the project for GROHE in the region.
"At GROHE, sustainability is one of the main pillars that we honor and work hard on to make it an everyday reality for everyone. It's that devotion that keeps us going to raise awareness on the optimal use of water resources" said Lina Varytimidou, Director PR and Communications, MENA.
Since its establishment in 2010, "Ita'am", the Saudi Food Bank, put in place a mission to help and support families in need all over the Kingdom. With that in mind, Ita'am and GROHE partnered up with the aim to bring to life generous initiatives and sustainable efforts that create change while giving back to the Saudi community. The amounts of saved water allowed both parties to assemble 4 tons of food packed in 200 boxes that were distributed to hundreds of underprivileged families.
This initiative, part of GROHE's global water conservation program Watercare, is a continuity of the Green Mosque program, launched in the Middle East in 2009, which seeks to increase public awareness about water consumption and conservation techniques and to secure the future of this precious natural resource.
"Water is the basis of life and a source of joy. Every precious drop should be handled with care."